The Silver Lake Dental Experience
Dentistry need not be anything less than a pleasant experience. We aim to make every visit special. At Silver Lake Dental you will find:
A clean, inviting environment
A warm, friendly greeting when you call or come in
Doctors and staff who treat you with respect
Quality, affordable dental care for you and your family
A clear explanation of every aspect of your visit
Our sincere appreciation for choosing and recommending this office
Easy payment options for treatment. We accept cash, check, all major credit cards, and offer interest-free financing through CareCreditSM
Comforting
We offer fresh baked cookies, a variety of beverages, and can even make your coffee to go. While you are with us kick back, and try our soothing warm paraffin treatment for luxuriously soft, baby-like hands.
Refreshing
Once you are comfortable in the dental recliner you will be offered a refreshing mouth rinse. At the end of your appointment freshen up with a warm face cloth.
Relaxing
Neck support pillows, warm blankets, and Nitrous Oxide (laughing gas) are available upon request. We offer dark sunglasses and a headset to allow you to relax fully while we take care of you. Listen to one of our channels, or bring in your favorite music.
Your First Appointment
Please arrive 10-15 minutes before your scheduled appointment time.
What to Expect
For our adult patients age 18+, please allow 70-80 minutes with Dr. Snell or Dr. Hannon. Patients under the age of 18 are scheduled for 40-50 minutes with one of our dental hygienists.
The dentist will perform a complete oral examination, take full mouth x-rays if needed,  and discuss any treatment you may need. The examination can identify conditions such as tooth decay, periodontal disease, and even oral cancer.
What to Bring
If you have current dental x-rays, please bring them to your first appointment or have your previous dental office email them to us. If you don't have them, new x-rays will be taken. Most dental benefits will cover a full mouth series every 3 years.
With just a few simple forms, we'll ask for relevant medical history, any medications you might be taking, your dental history, and any dental benefit coverage you may have.
A picture ID and your dental benefit card.
New Patients
Call or email us to schedule, then click here to complete your forms.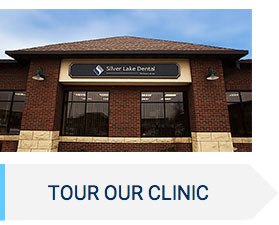 The staff is really nice & understanding. It was a really great surprise when I was offered a complimentary paraffin hand wax while they cleaned my teeth too!
I had a great experience at Silver Lake Dental. Dr Terri Snell is superb. She was extremely thorough in our initial checkup, and was completely courteous and professional the entire way. I would recommend Dr. Terri any time.
Always a 'joy' to go to. With a new crown, I feel like a queen!
Silver Lake Dental has healed my dental care anxiety. I have had severe dental trauma from: a bike accident and past dentist experiences. I avoided dental care for five plus years. Silver Lake Dental has changed that, Dr. Snell did everything she could to make me feel comfortable and communicated every step in the appointment. She took her time and double checked to make sure I was comfortable.
As always Silver Lake Dental and it's staff never let me down; always very timely (literally no wait time yesterday even when I showed up early for my appointment) & extremely friendly. It's always a great experience having them as my dentist! 🙂
I brought my 7 year old son to Silver Lake Dental after having gone to another dentist for the past 4 years. They did a wonderful job of making him feel relaxed and comfortable. The dentist and hygienist explained things to him in ways he could understand.
Micah G.
Parent of Patient
I had an urgent need to replace a crown that came off (not one from this clinic). They were able to fit me in and had me in and out in less than one hour. I'm very happy with the service and professionalism.
Posted the following on my Facebook page: 9 likes, 3 (envious) comments, 1 share. Pampered at the dentist. At my dental cleaning today I read a book by the fireplace in the waiting area before my appointment, had a hand wax treatment while they cleaned my teeth, enjoyed a complimentary chocolate chip cookie and cup of coffee, and, since they were running late and I had to wait an extra 10-15 minutes, they offered me a $5 Caribou gift card. I'm very tempted to ask if I can come back tomorrow.