We are a state-of-the-art clinic, offering a high quality customer experience.
CAESY® interactive system for patient education
Nitrous oxide for sedation
Cable TV in hygiene rooms
Carestream digital x-rays
DEXIS CariVu zero radiation cavity detection
Logicon® Caries Detection
Vizilite Plus® oral cancer screening
Pre-filled disposable whitening trays
Oraqix® needle free anesthetic for periodontal treatment
Pro-Select3® periodontal therapy system by Pro-Dentec®
Emax® crowns made from a metal-free, zirconium substructure for optimal strength and esthetics
Snore & sleep apnea appliances
Custom athletic mouth guards
Clenching and bruxism splints
Restoration of implants with referral for implant placement with immediate temporization
MicroAbrasion
Learn more about some of our special technologies and treatments:
Digital X-Rays
Dental technology has improved the way dentists practice their craft. Thanks to science, modern techniques allow patients to receive dental treatment without the pain and time associated with old-fashioned dentistry. Dental technology is even being developed to make dental X-rays safer and more convenient.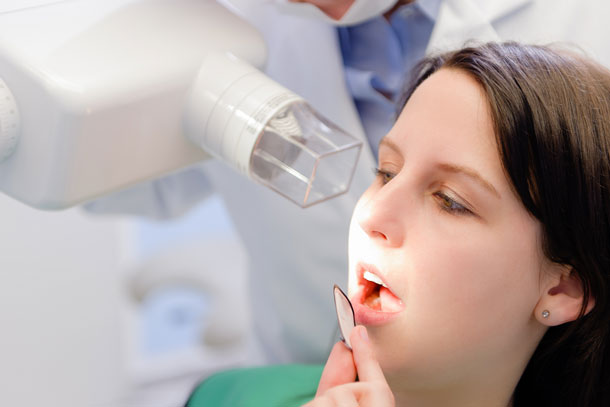 With digital radiography, your dentist inserts a sensor into the mouth to capture images of your teeth — but that's where the similarities between conventional and digital dental X-rays end. Although it resembles the film used for bitewings and other X-rays, the digital sensor is electronic and connected to a computer. Once the X-ray is taken, the image is projected on a screen for your dentist to view. There are several benefits to using digital radiography over traditional film X-rays:
Less Radiation – The equipment used in digital radiography exposes dental patients to much less radiation. In fact, digital X-rays use up to 90 percent less radiation than film X-rays. While conventional dental X-rays are relatively safe, digital radiography is an excellent option for those who take X-rays on a regular basis or for those who are concerned about radiation.
Shorter Dental Appointments – Digital radiography can also shorten your dental appointment! With traditional dental X-rays, you'll have to wait while your dentist develops the film. With digital radiography, the sensor develops the picture almost instantly and projects it onto a computer screen right before your eyes.
Higher Quality Images – The standard size of traditional X-rays can make viewing difficult, but digital radiography has done away with the "one size fits all" mentality. Once on the screen, digital X-rays can be enlarged or magnified for a better visual of the tooth's structure. Brightness, contrast and color can also be adjusted, allowing your dentist to see small cavities easier. If you need a hard copy of your X-ray, digital images can also be printed out.
Transferring Dental Records – Digital images can be e-mailed to a dental specialist for immediate review. Digital X-rays are taking away the expense and time needed to copy files and mail them to another dentist, making it easier to transfer dental records or get a second opinion. As more offices are turning to electronic patient charts, computers may eliminate the need to mail dental records altogether.
Environmentally Friendly – Digital dental X-rays are better for the environment! With digital radiography, no chemicals are used to develop film. There's also no wasted space of a darkroom and no need to store film, which can pile up in a dentist's files.
The Complete Picture
Dental X-rays are important part of your regular dental visits. Dental X-rays are necessary to help diagnose problems not visible to the naked eye. If you're concerned about radiation, talk to your dentist at Silver Lake Dental about your X-ray options. 
DEXIS™ CariVu™
DEXIS CariVu allows dentists and hygienists to see into your teeth like never before and capture pictures of them for diagnostic review and sharing with you on-screen.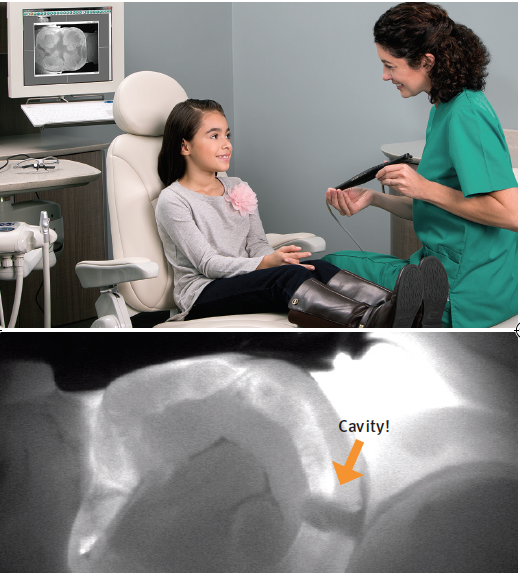 The exam is painless and simple. Flexible arms gently hug the tooth and bathe it in near-infrared light as the built-in camera captures live video and still images.
CariVu can be safely used on every person as often as needed, and because it uses no X-rays, it's especially beneficial for kids, pregnant women and others who want to avoid ionizing radiation.
With this technology, a potential cavity may be identified sooner which can call for taking more preventive measures then monitoring changes over time.
CariVu is particularly good for finding a cavity between teeth, even in the early stages. Since its actual size and shape can be seen, treatment can be more targeted.
It's also useful for discovering a crack. Since the tooth can be viewed from multiple angles, it makes it easier to see the shape and extent of a fracture and aids in determining the best course of action.
Images are stored in your patient record and can be compared from visit to visit. They can also be shared with specialists when necessary.
Intra Oral Camera
An Intra Oral Camera is a small digital camera with a bright LED light. This camera attaches to our computer and allows us to take magnified digital pictures of your teeth and tissues in your mouth. These images can help us to make a diagnosis and allow us to show you things that you may not be able to see with a naked eye such as cracked teeth. We can also use these pictures for insurance purposes and for consultations with our partner specialists. The Intra Oral Cameria is a great educational tool; you can see exactly what is going on with your mouth rather than us trying to describe it to you. We use the DigiDoc® Intra Oral Camera system.
Isolite®
Isolite® Systems' award-winning, proprietary and patented mouthpieces are specifically designed and engineered to allow us to isolate the tooth or quadrant of the mouth we are working on, keep the area dry and provide light and suction all in one. This can be a more comfortable alternative to a rubber dam.
Vizilite®
ViziLite Plus is a painless exam administered by your dental professional. It is painless and takes just a few minutes to perform. After your dental hygienist or dentist has performed a visual exam for any abnormalities, which is done at every prophylaxis (cleaning) or periodontal maintenance appointment, they will have you swish with a solution. This solution will help us to conduct the ViziLite Plus exam. When you have finished swishing with the solution, we will use a special light to highlight any suspicious areas that we cannot see with our naked eye. Approximately 25% of oral cancers are discovered in patients once believed to have no lifestyle risk factors such as tobacco use, chronic alcohol use, a history of oral cancer or Oral HPV infection. Because the incidence of human papillomavirus 16/18 (HPV 16/18) related cancers are rising in young patients, it is recommended to perform the Vizilite exams on all adult patients.
Remineralization
Remineralization is a good option to address demineralized teeth or fluorosis, the "white spots" on your teeth. This is a painless procedure that requires no drilling or removal of tooth structure. We will take an impression of your teeth to make clear custom dental trays. Your teeth will be then be prepared and cleaned and a solution of MI Paste will be placed on your teeth. You will leave our office that day wearing your clear custom dental trays. This will need to be worn for at least an hour to ensure the MI Paste stays in place over your teeth. The MI Paste will need to be placed on your teeth again at bedtime after your normal routine of brushing and flossing and you will wear the trays over night to ensure maximum exposure with the MI Paste. This will be done nightly over the course of a few weeks and will involve another visit or two to our office to track your progress.   You may then choose to whiten your teeth after the remineralization process is finished and can use your new custom trays for this.
Sonicare®
Sonicare's patented sonic technology is proven to be powerfully effective, yet remarkably gentle. It generates high amplitude and high frequency bristle motion, creating dynamic cleaning action that drives fluid forces deep into interproximal spaces and along the gum line. The result is a superior clean that you can see and feel.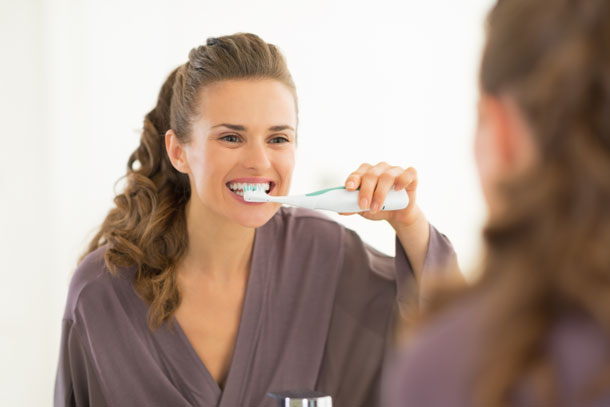 Patients that use Philips Sonicare® notice:
Improved check-ups
Easier dental cleanings
Better oral health
Results you can feel and see quickly
Icon® No-drilling Technology
Icon® is a breakthrough treatment that can…
Stop an early cavity before it needs to be "drilled and filled"
Cosmetically remove white spots caused by early cavities or orthodontic treatment
Icon® is a new way Silver Lake Dental can stop the progression of an early cavity before it needs to be treated using a needle or drill. This breakthrough treatment fills and seals the tiny holes and stabilizes the tooth, offering many unique advantages:
The treatment does not require drilling the tooth or injections of anesthesia
Healthy tooth structure is preserved
The treatment is completed in just one visit to Silver Lake Dental
The treated surface of the tooth looks like healthy enamel – no more white spots!
By treating cavities early, the life expectancy of the tooth can be prolonged
Are you a good candidate for Icon® treatment?
Icon® is only appropriate for treating cavities in early stages. Cavities that have progressed beyond the early stage will need to have a conventional filling or other treatment.
Cavities
What causes you to get a cavity? Bacteria that live in your mouth thrive on sugars and starches, producing acids as a result. These acids eat away at the enamel on your teeth, creating tiny holes or pores. This eventually weakens the structure of the tooth, often appearing as a chalky white spot on the surface of the tooth. As the process progresses, a cavity is formed that your dentist traditionally treats by drilling and filling the tooth. We can treat cavities early with the Icon technology, a no-drilling, no-pain solution. Talk to your dentist at Silver Lake Dental, to learn more about Icon® and whether it is a good fit for you.
OraVerse technology reverses dental numbing
By now, numbness is something most of you are used to at the dentist after an injection of local anesthetic. OraVerse is a proven way to speed up the return of sensation in the soft tissues after routine care. OraVerse is a breakthrough that reverses unwanted lingering numbness after routine dental procedures where local anesthetic containing a vasoconstrictor was used. We'll administer it immediately following your procedure to speed up the return of sensation in the soft tissues of the mouth. We're always looking for ways to improve your dental experience. So if you're among the many patients who dislike lingering numbness and its limitations, let's discuss whether OraVerse is the right choice for you during your next dental visit.
Who is OraVerse for?
OraVerse is indicated for the reversal of soft-tissue anesthesia, i.e., anesthesia of the lip and tongue, and the associated functional deficits resulting from an intraoral submucosal injection of a local anesthetic containing a vasoconstrictor. OraVerse is not recommended for use in children less than 6 years of age or weighing less than 33 lbs.
Important Safety Information
In clinical trials, the most common adverse events with OraVerse (phentolamine mesylate) were post procedural pain, injection site pain, increased or decreased heart rate and headache. Following injections of phentolamine in non-dental procedures, substantial decreases in blood pressure have occurred which resulted in heart attacks as well as spasms and blocked blood vessels in the brain. Although such effects are uncommon with OraVerse, you should alert your doctor if you experience an increase in heart rate or abnormal heart rhythm (palpitations), particularly if you have a history of heart disease.